7th & 8th grade students traveled to the Northern Cheyenne reservation in Montana last week (May 26-May 29), participating in activities that helped them gain new insights into American history and Native American culture.
This was the third time 7th and 8th grade students from The Lippman School traveled to Montana for this unique educational experience. The school has had an ongoing relationship with the Northern Cheyenne tribe for the past six years. Each year, tribal members and students come to Akron and every other year students from Lippman travel to Montana.
Our students built a traditional tipi with adult and student tribal members and spent four nights camping on the reservation.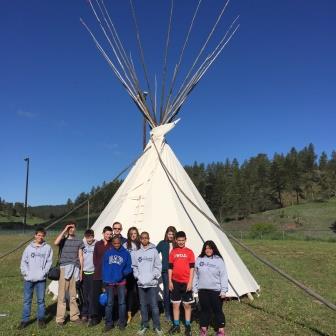 They also visited Little Bighorn Battlefield Monument, where they learned about the historic battle in 1876 known as Custer's Last Stand, from Tribal elder, Otto Braided Hair.Two hundred seventy six US 7th Cavalry soldiers were killed in that battle against several thousand Cheyenne, Lakota Sioux, and Arapaho warriors.
While the Native tribes won that battle; they lost the Great Sioux War, which marked an end to their traditional way of life, resulting in them being forced to live on reservations.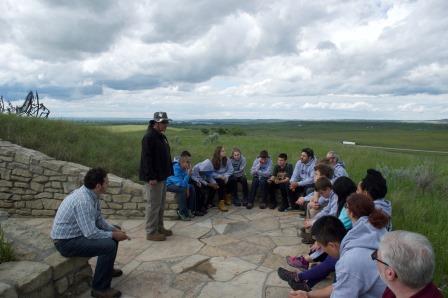 (At Little Bighorn Battlefield Monument)
Students also participated in a traditional sweat lodge experience at the home of Burt Medicine Bull-- a Northern Cheyenne Tribal Member and Cheyenne Language and Culture teacher at Chief Dull Knife College--and in an ethno-botany hike to an ancient "Buffalo jump" site, led by tribal member Lynwood Tall Bull.
A Buffalo jump is a location where Northern Cheyenne hunters used to herd bison over a cliff, so that the animals could be immobilized and killed by other tribal members waiting below. During their hike to that site, students sampled wild flowers and berries that are traditional foods and medicines of the Northern Cheyenne people.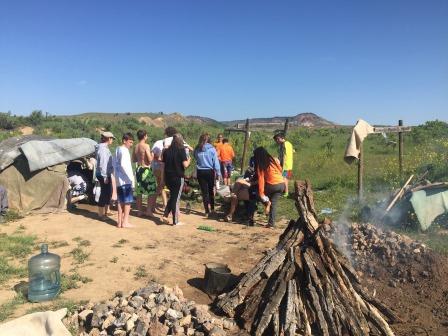 (Students prepare to enter the sweat lodge.)
Lippman's Head of School, Sam Chestnut says "our students are so fortunate to participate in immersive activities led by Northern Cheyenne tribal educators and cultural leaders. They leave this experience with an appreciation of Native history, culture and relationship to the environment that will forever inform how they understand our diverse nation".
Our Northern Cheyenne experience will continue this October, when tribal educators, musicians, and cultural leaders bring ten middle school students to Akron. While they are in town, there will be a public performance of traditional Northern Cheyenne drumming, dancing, and singing. Tribal members will be wearing traditional Northern Cheyenne regalia, and audience members will be invited to participate.