News
7th & 8th Grade Montana Trip Begins
5/29/2016
Our cross-cultural exchange program with the Northern Cheyenne Nation continues this year, with our 7th & 8th graders visiting the reservation in Lame Deer, Montana. Shown here, our students are standing in front of the tipi they built, in which they will be sleeping for the next few nights.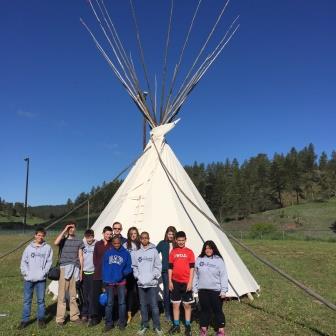 This is the third time our students have had the opportunity to visit the Northern Cheyenne reservation. The last time was in May, 2014.
They are also visiting nearby historical sites, including the Little Bighorn Battlefield National Monument. In this picture, they are standing in front of a sculpture that commemorates the Northern Cheyenne, Lakota Sioux, and Arapaho warriors who lost their lives in the most famous battle of the Great Sioux War of 1876, commonly known as "Custer's Last Stand".
In that battle, 268 members of the US Army 7th Cavalry were killed. But, while Native tribes won that battle; they eventually lost the war. They also lost their nomadic, Buffalo-hunting way of life--eventually being forced to live on reservations like the one where our students are staying this week.
Seeing the results of that iconic battle from the perspective of the Indian tribes that defeated General Custer, and actually talking to descendants of Northern Cheyenne warriors who lost their lives in that battle, is a unique cultural experience that few American students have the opportunity to share.It is just one of many valuable insights and lessons our students will learn during their visit to the Northern Cheyenne Nation.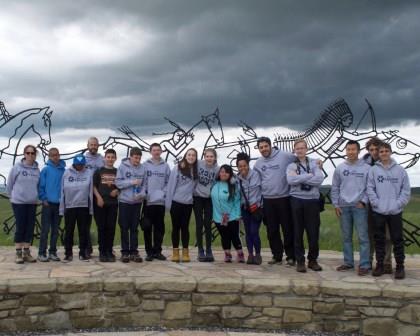 Next week, they will visit Yellowstone National Park.